Covid has affected the mental health of more than half of undergraduate students (56%) who responded to a survey conducted in 21 countries. The survey, undertaken by Chegg, gathered responses from 16,839 students aged 18–21 in October and November of 2020.
In Western countries, the percentage of students reporting that their mental health has deteriorated has increased, with at least 70% of students in the United States, Canada, and the United Kingdom reporting that their mental health has deteriorated.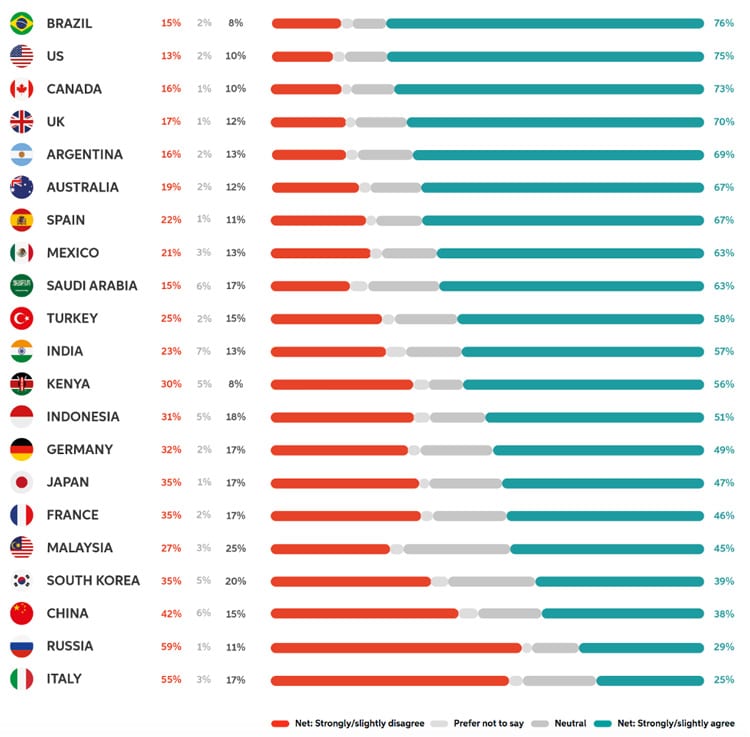 Students respond to the question, "To what extent do you agree or disagree with the following statement: 'My mental health has suffered during Covid-19.'"
Source : Chegg
Moreover three-quarters of Brazilian students (76%) stated Covid was causing mental health problems for them. Mental health concerns were reported in lower numbers in Italy (25 per cent), Russia (29 per cent), China (38 per cent), and South Korea (38 per cent) (39 per cent).
The survey sample's disparate self-reports of mental health or lack there show that how students evaluate their mental health as well as whether they consider seeking treatment if they are going through anxiety, depression, or other mental health difficulties has a cultural dimension. This is especially important for foreign educators in terms of the quality and amount of mental health counselling they provide for students, given that other research shows that international students are less likely than domestic students to be aware of and access mental health resources.
The co-founder, Justin Chen, of Massachusetts General Hospital's Center for Cross-Cultural Student Emotional Wellness and an assistant professor of psychiatry at Harvard University, spoke as a panellist at a session dedicated to international students' mental health at the NAFSA conference in 2019, explaining that Chinese students, in particular, can have difficulty seeking treatment for mental health challenges, in part because they may have the added burden of coming from a custodial family. Mr Chen went on to say that Asian students may be pressured to fit the stereotype of the high-achieving academic student studying in the West.
Mr Chen, along with a number of other experts, lectured on a variety of topics, including:
Professors and counsellors should look for "deterioration in personal hygiene or dress, dramatic weight loss or gain, noticeable changes in mood, excessive absences, academic problems, social isolation, unusual behaviours, drug and alcohol abuse, or threat of harm to themselves or others" as indications that an international student is experiencing issues.
The need for counselling that takes pupils' language preferences into account;
The necessity of ensuring students that seeking help is a powerful rather than a weak move and that doing so is private and would not damage their academic records or visa status;
The objective of having therapists on hand during orientation week is to let international students know that they may get help if they need it.
Researchers at the University of Hong Kong conducted another poll in 2020 to analyze overseas students' mental health during the pandemic, and it found that students were divided into two groups: those who stayed in the host country when Covid struck and those who returned home.
The study discovered that 84 per cent of all students in the sample were stressed to "moderate-to-high" levels, but that students who stayed in the host country "… had significantly higher stress from Covid-19-related stressors such as personal health and lack of social support, higher perceived stress, and more severe insomnia symptoms." The rapidly shifting, frequently contradicting, and frequently unsettling signals that all students received during the first months of Covid would have been especially traumatic for overseas students who were distant from home and their families.
International students sometimes may have had linguistic problems, and many would have faced difficult decisions on whether to stay or go, as well as the consequences of either decision on their chances of finishing their programs. Some in the United States ever faced the risk of being forced to return home if their programs went online for a few weeks. These issues would have been on top of everyone's intense fear of catching COVID, and the experts encouraged "educators and mental health experts to provide appropriate assistance for overseas students, particularly stayers, throughout the pandemic," according to the report.
Though vaccines have given the hope, the pandemic is far from over, and many thousands of international students continue to face hurdles that domestic students do not, ranging from financial difficulties (e.g., not being able to work enough and/or not receiving the same emergency funds as other students) to logistical difficulties (e.g., continuing border closures in some countries). This year and next, these youngsters will require more assistance than ever before.
As the pandemic progresses, strengthening the mental health services infrastructure for overseas students will be critical for student retention and success, as well as an important part of recruitment.
Read all the Latest News here. Follow us on Facebook, Twitter, and LinkedIn.